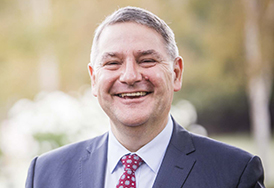 Director of Advancement and Admissions
Education is very important to me, not just the traditional subject-based view, but education in its broadest sense. This includes the inculcation of a strong set of values, understanding of the importance of relationships, along with high levels of attainment in the curriculum.
I come from a family of educators who believe that teaching is a giving profession. My father was a school principal, four of my siblings became teachers and I am also married to a teacher. The aspect of contributing for the benefit of the community is imperative.
The expertise I've gained by being involved with Melbourne Grammar for so long means I broadly understand the School – its values, traditions and families. Today, a big part of my role is building relationships beyond the classroom with these families and with Old Melburnians.
Working alongside our families reminds me that education is a triangular process. Success is built on active participation from the child, school and from parents. Similarly, meeting Old Melburnians reminds me of the potential that lies within each of our students and the contribution they will make into the future.
This sense of community among students, teachers, parents and Old Melburnians is one of the reasons the School continues to thrive. I want to further enhance that sense of community to see our School go from strength to strength.
---
Andrew Boyd began his teaching career at Camberwell Grammar in 1981, teaching there for 11 years before taking up a role at Scotch College Junior School. He then spent two years as head of Firbank Grammar School's Sandringham House, followed by 18 years as Head of Grimwade House at Melbourne Grammar School. In 2016 he took up the role of Melbourne Grammar School's Director of Advancement and Admissions.