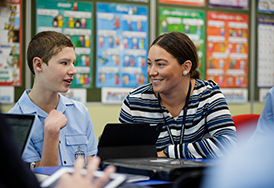 Head of Caffin House and Boarding House Assistant
Last updated: December 2019
Accepting a position at Melbourne Grammar was a little daunting at first – I didn't go to an independent school and had never taught at one during my pre-service teaching. However, when I arrived I was so warmly welcomed by the staff; everyone was dynamic, down-to-earth and passionate about educating young men. Being a beginning teacher, I was inspired and energised by this.
There's a real value placed on professional development here, which has been great for me so early in my career. I was paired with a mentor from the start, have had the chance to learn from senior staff members, and taken on a number of acting leadership roles including Head of House. I've also had time outside the classroom to complete a year-long leadership agency course.
I've been so grateful for the opportunities that have come my way – more than I could have imagined. It's meant that I've progressed and felt comfortable within the profession far more quickly than I thought I would. I've recently been appointed Coordinator of History. I think there are wonderful opportunities to progress my career here.
I love working with Year 7 and 8 students. They're so energetic, funny and cheeky. At this stage of their development Melbourne Grammar embraces a holistic approach, putting a strong focus on pastoral care and student wellbeing. These areas are real passions of mine and one of the reasons I wanted to become a teacher. There's also freedom here to create an engaging curriculum and try new ideas to see what students respond to.
I enjoy coming to work because each day is positive for a different reason. The best day could be a relatively difficult one spent resolving a conflict, but it ends with the knowledge that you've made progress.
---
Kim Goodwin Watson is a graduate from Deakin University. Her studies in education focused on health, physical education and history. She is currently teaching PE and history at Wadhurst.
Kim was appointed to the role of History Coordinator in 2018, ceasing this role in 2020 to become the Head of Caffin House.
Kim also is a member of the Melbourne Grammar Boarding community, where she is a House Boarding Assistant.