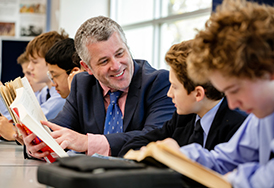 English Coordinator at Wadhurst
Last updated: August 2018
Recently, a student teacher asked me what I considered to be the most important attribute in a teacher. Tough question. Good question. After a long pause I gave my answer. Two answers actually. 'Empathy and expertise.'
Let me start with empathy. Perhaps arising out of my deep love for Harper Lee's 'To Kill a Mockingbird', I've long held the notion that striving to see things from another person's perspective is not just a noble pursuit - it is an essential weapon in the arsenal of any good teacher. Empathy not only allows us to cater for those who have a different view but also helps us appreciate the struggles they may have in the course of confronting new ideas and unfamiliar concepts. Empathy allows us to find the patience to assist younger minds. It generates our preparedness to ensure that every boy has the best chance to develop in every class we teach.
As for expertise, this shouldn't require explanation but over the past few decades, teachers have felt - rightly or wrongly - nudged, if not pushed, to the periphery. Phrases such as 'guides on the side' became de rigueur. Educators relying on direct instruction experienced strange pangs of guilt. However, we always need to bear in mind that teachers are in the business of other people being wrong. Our classes aren't filled with stakeholders and clients, but rather students who make mistakes and rely upon our expertise to make their acquisition of facts and figures (and the inevitable development of knowledge) as efficient and compelling as possible. And from this solid base, we are afforded the opportunity to take learning further. This is where the rubber hits the road – the point where the discipline of scholastic endeavour provides avenues of exploration. The students' displays of higher order thinking is the return on the investment of many shared hours of industry and application.
Ultimately, like modern-day alchemists, we combine these two agents - empathy and expertise - mixing them together instinctively, chaotically, mystically, until something priceless is produced. That treasure is not NAPLAN success, or a perfect ATAR score. What we distil from our concoction of empathy and expertise is something unique to each student, something that only they can see, or more accurately, sense - possibilities.