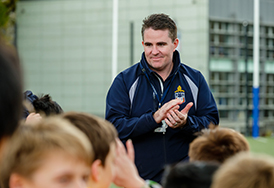 Director of Sport at Wadhurst
Last updated: December 2019
At Wadhurst (Years 7 – 8) my role as Head of Sport entails looking after the APS interschool programme, house activities, teaching PE and looking after the snow sports programme. I believe sport is something that can teach our students life skills – resilience, teamwork and learning from failure – and that's what I enjoy seeing them respond to.
All our students play compulsory sport on Saturdays and train once a week. Our rationale for limiting training to just one weekday is that we don't want students to have to choose between all of the cocurricular activities we offer. Sport is just one option. Middle school is about having flexibility at a formative time. There are so many different things our students can take in and learn here, and I enjoy helping them on that journey.
Alongside my role at the School I'm also the Head of AFLW Recruiting and Player Development at St Kilda Football Club. I've been involved in coaching for around 18 years from junior to elite level and I enjoy the way teaching and coaching complement and inform each other.
The Head of Wadhurst and other Executive staff support what I do in my career beyond Melbourne Grammar. They see the value of teachers pursuing what they're passionate about and how that helps the students. I think my experiences as a coach are part of what has helped me to get where I am at the School.
I do have a focus on gender equity in the decisions I make, in part to show the boys that females should be treated equally. It's also about simply choosing the best person for the role, regardless of gender. I believe it shouldn't matter that we're in an all-boys school when it comes to the people we work with and learn from.
---
Scott Whyte joined Melbourne Grammar School in 2015 following six years at Wesley College. There he taught Years 5 and 6 and served as Head of Mathematics. Scott has also been involved in elite sports coaching for more than 10 years.