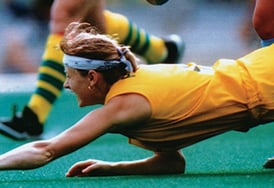 Ms Danni Roche OAM OM 1987
Sportswoman
Danni Roche was an outstanding Australian hockey representative who won a Gold Medal at the Atlanta Olympics. A talented hockey player, Roche represented the Victorian under-18 team at age 14 and the State senior team at age 17.
On leaving school she attended the Australian Institute of Sport and was immediately selected for the Australian senior team. Roche was a member of the Australian Gold Medal-winning team at the 1996 Atlanta Olympics. Playing as a midfielder in all of Australia's matches at the tournament, she scored 3 goals, including the only goal against Germany.
Roche played 50 representative games for Australia before retiring with a knee injury after the Atlanta Olympics. In 1997 she was honoured with the Medal of the Order of Australia for her service to sport and in 2000 was awarded the Australian Sports Medal.
After gaining a Masters in Business Administration from Bond University she now works as a stockbroker with UBS in Sydney. Roche has served on the Hockey Australia Board since 2004 and will be working in Athlete Services with the Australian Olympic Team in Beijing.
---
Melbourne Grammar School marked its sesquicentenary in 2008. As part of the celebrations, a Talents Committed Exhibition was staged. This exhibition recognised 150 Old Melburnians who have made a difference to the City of Melbourne, the State of Victoria and the wider community in Australia and overseas.
The above profile was included in the Talents Committed Exhibition in 2008.