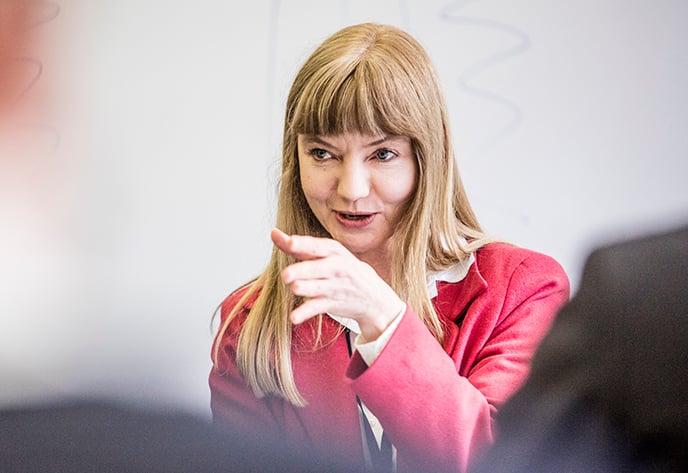 Head of Teacher Development, Senior School
The philosopher and the educator have been present in me for most of my life. I remember the delight I experienced upon receiving a photocopier from my parents for my 10th birthday as their way of supporting my early passion for teaching lessons to invisible students in the big shed we had on our farm. I got enormous pleasure from planning those lessons and working out how I was going to use the blackboard (and handouts!) to explain difficult points. Those were the nascent stages of my love of thinking things through and trying to make ideas accessible to others. Becoming a teacher (and working with real rather than imaginary young people!) confirmed it as my 'deep gladness' (to use a phrase from Frederick Buechner).
In my view the purpose of education is first and foremost about the development of hearts and minds. I get great delight from walking around the school listening to the laughter and conversation that is coming from classrooms, and witnessing lessons with 'blood and sap', as C S Lewis once put it. In teaching with love, depth and rigour, we enable our young people to participate in serious dialogue with great thinkers, writers, scientists and artists about what it means to be human and thereby help form their own humanity.
If we do our work well our students leave us, not merely with the knowledge and skills they need to confidently enter the workplace, but with the capacity to understand themselves and the world in which they live, the desire to contribute generously to society as intelligent citizens, and with the inner resources necessary for finding meaning, purpose and happiness in their lives.
---
Dr Felicity McCutcheon is the Head of Teacher Development in the Senior School and a teacher of Philosophy and Religious Studies.
Dr McCutcheon has a First-Class Honours degree from the University of London and a PhD in Philosophy from the University of New South Wales. Her thesis on Ludwig Wittgenstein's philosophical project was published by Ashgate in 2001. She has lectured in Philosophy at the major Sydney universities and in Oxford, where she spent time as a Visiting Fellow of Oxford University. Felicity joined the staff at Melbourne Grammar School as Head of Philosophy and Religious studies in 2006.