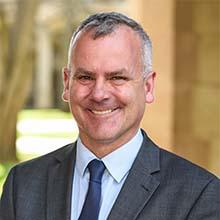 I am delighted to announce the appointment of Mr Ben Hanisch to the position of Deputy Headmaster and Head of Senior School at Melbourne Grammar School, commencing Term 3, 2019.
Mr Hanisch has held the position of Deputy Headmaster and Head of Senior School at St Peter's College in Adelaide since July 2016. He served as Acting Headmaster for six months during this time and impressed many people in his time in that demanding role.
Prior to his move to Adelaide, Mr Hanisch held several senior positions at Melbourne Grammar School including being a member of the Senior School Executive as Director of Senior School Curriculum and Head of Japanese. He was a highly regarded Head of Hone House for over 8 years, expertly guiding hundreds of MGS students through their formative senior school years. He also taught at Geelong Grammar School before coming to MGS.
Holding a number of academic qualifications, including a Masters of Education from the University of Melbourne, Mr Hanisch is a highly talented educator who is renowned for the positive interactions he has with students, staff and parents, both at St Peter's College and at Melbourne Grammar. A warm and engaging character, his reputation is founded on trust, commitment, fairness and a commitment to excellence.
Mr Hanisch identifies well with the ethos and values of Melbourne Grammar. He has a strong understanding of its strengths and traditions, but will also bring a valuable fresh perspective and an innovative approach to the School.
I am sure you will join me in welcoming Mr Hanisch and his family to the School in due course.
Roy Kelley
Headmaster