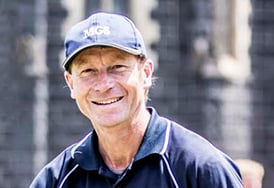 Last updated: December 2019
My team and I try to make the grounds and sporting fields at Melbourne Grammar School the highest possible standard, assuring they are as attractive as they can be. We really appreciate the impact this can have on student and staff wellbeing, and educational outcomes. I'm very lucky that I have a great team of skilled and passionate horticulturalists around me. We all feel a lot of pride in what we do.
I am a passionate and committed turf manager. It is an unheralded profession, requiring skills, passion and knowledge to do it well. My professional career started in turf management in my early twenties working on a local council cricket pitch in Melbourne. My career has encompassed both local and overseas work including time spent in England working on cricket pitches, working on a Scottish golf course, in Darwin preparing gardens and turf, as well as golf courses in Melbourne. From there I went on to become a teacher in horticulture at TAFE (NMIT), working with apprentices, diploma students and trainees for 15 years. I had some great mentors during that time at TAFE including a Doctor Phil Ford who is a Doctor of Turf Management.
Since coming to Melbourne Grammar School I've had the opportunity to participate in our international cricket tour to the UK, which was a fantastic experience. At every school we visited and played I spent time with the groundsman enquiring about their practices, including at Eton, Harrow and St Pauls. I was also able to visit the international turf sports research centre in Yorkshire, as well as visiting Lord's cricket ground and The Oval in London where I spent time with the Grounds manager at both venues learning from their skills and knowledge. This was a great experience. On my return to Australia I stopped to visit a friend and work colleague who is the Ground's manager at the training and test cricket venue in Dubai UAE to see how he manages pitches in extremely hot and dry conditions.
Through talking to these overseas experts, I learned more about the use of different machinery and other management tools, some of which I've been able to implement here at the School to improve our grounds even further. It was also a chance to get to know the students and parents much better and to understand the big picture of the School. From this experience I have a better appreciation of the school, its culture and the amazing opportunities offered at the school.
What I enjoy most about my role is the weekly challenge of preparing the surfaces for games—I get a lot of satisfaction out of that. I love the outdoors, love horticulture and work for a great School. I'm really fortunate.
---
Recognised as one of Australia's preeminent turf managers, John Shannon has been grounds manager at Melbourne Grammar School for over four years following 15 years working in a horticultural teaching role. With his team of eight staff, he manages grounds at Edwin Flack Park, our St Kilda Road campus, Grimwade House and our boarding houses. Building on his previous coaching experience, John was appointed coach of the First XI cricket team in 2019.