Congratulations to the 2020 School Captains: Tom Bartlett is the 2020 Captain of School, and Alexander (Xander) McGuire and Peshala Dissanayake are the Vice-Captains.
"I am delighted with the appointment of these outstanding young men," says Headmaster, Mr Roy Kelley. "Through their achievements to date, and during the selection process, they have shown that they have a clear understanding of the service model of leadership engaged at the School. I am confident they will represent the School well."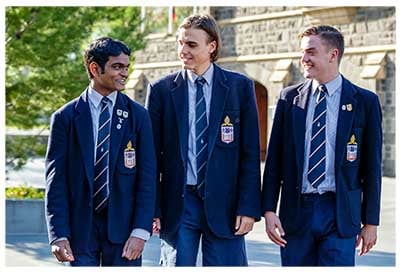 "As Captain of School, I will strive to create an environment at the School in which everyone has a genuine sense of belonging and feels supported," says Tom Bartlett. "If I was able to foster a culture of shared belonging I think this would set the foundation for a great year, because when people have a strong base of support behind them they have the potential to do anything."
"I was excited by the selection of Xander and Peshala as Vice-Captains as I believe, between the three of us, we possess the necessary skills and leadership experiences to complement each other and form a great team," he adds.
Peshala Dissanayake is also keen to make a positive difference. "I am proud to have been chosen by staff and my fellow students for this role and am excited to help represent student interests alongside making the School a more inclusive place," he says.
The student leaders were appointed after a rigorous selection process. Students in their peer year and Senior School teachers are invited to vote on the list of self-nominated students and these votes are tallied. The five candidates, who receive the most votes, are then interviewed by the Headmaster, the Deputy Headmaster and Head of Senior School, and the Director of Students and a final decision is made based on both the votes and the interview.
"It's an honour to be selected for this role," sums up Xander McGuire. "I look forward to maintaining the legacy that Mr Kelley and past School leaders have built, upholding the traditions, values and successes of Melbourne Grammar's past during our tenure. We are excited to welcome the new Headmaster into the Melbourne Grammar community with these goals in mind. 2020 is set to be a great year!"