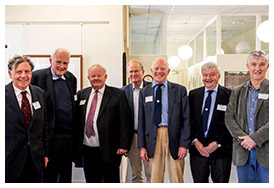 Meet the members of the "Anticlockwisers Club"– a distinguished group of twelve Old Melburnians bound by a common history and a shared goal. They have elected to collectively support Melbourne Grammar's Indigenous Bursary Programme.
The Anticlockwisers, all of whom graduated from Melbourne Grammar in 1961, are firm friends and gather together on a regular basis. The group even has its own unique necktie!
Each year various members of the group make a contribution to the Indigenous Bursary Programme through Annual Giving, citing their 'donor name' as an Anticlockwiser. None of the other members know who has contributed or how much each has given, but their overall generosity has made a significant difference to the programme.
Their ongoing financial support to the programme was spearheaded by 1961 Captain of School, The Hon David Harper AM QC, who has served on Melbourne Grammar's Indigenous Steering Committee since 2016.
"I'm not particularly good at asking people to support causes, but I felt comfortable approaching the Club to provide financial support to the Indigenous Bursary Programme," Mr Harper explains. "It wasn't difficult for me to persuade them, given the history of relations between First Nations people and those who've arrived since. None of us need feel guilty, but I believe all of us should feel a sense of shared responsibility to enhance educational opportunities for Indigenous Australians. I see the contributions of the Anticlockwisers as a positive way to reflect that responsibility."
"I was very impressed with the approach the School was taking when I joined the Indigenous Steering Committee," Mr Harper adds.  "I saw Melbourne Grammar approaching this very difficult task of making Indigenous students feel they were an integral part of the School, with the extraordinary sensitivity that requires, while also preserving their connection with their culture and their sense of themselves as proud Indigenous people."
In early October 2019, seven Anticlockwisers attended a luncheon at the School together with eleven Indigenous students and Indigenous Programme Manager, Robbie Ahmat. This was an opportunity for supporters of the Indigenous Bursary Programme to meet those supported by it, sharing histories and experiences.
"I think all of us were slightly nervous about how the event might go, given that we're in our seventies – we weren't quite sure how we'd interact when meeting these students for the first time," Mr Harper says. "But the time we spent together exceeded our expectations. The luncheon was a visible sign of the group's connection with the School and raised our level of connectedness with the Indigenous Programme."
Later, speaking about the luncheon, Mr Ahmat shared that the response was just as positive from the students involved. "The boys were impressed with the professions present in the room," Mr Ahmat said. "They were saying, 'Why can't we be sitting in a room in fifty years' time, having lunch together, being the heads of our own companies?'"