As a final celebration of the Grimwade House Centenary, we unveiled our new Centenary Window in Grimwade's Chapel of St Andrew.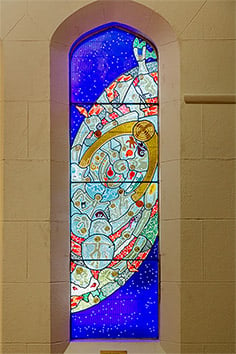 The Centenary Window was created by renowned Australian stained-glass artist David Wright (OM 1966), who has previously created three windows for the Chapel.
Speaking about his work, Mr Wright says that, while all the windows of the Chapel he has created are for the children, this window is "of the children".
"Children are invited to recognise themselves in the window in all their wonderful ways," he explains. "In the joy of movement – spinning, skipping, chasing balls and so on. The bonds of friendship are shown by the holding of hands. The book represents a love of learning, perhaps even occasional solitude."
Beneath the window, visitors to the Chapel will see a quote from Luke 18:16: "Let the little children come to me, and do not hinder them, for the kingdom of God belongs to such as these."
"The theme of the new window reflects on one of the central events during Jesus' ministry," explains Mr Royce Helm, Head of Grimwade House. "Jesus regarded children as special. He held up their trust, spontaneity and love as an example to adults."
The creation of the window was made possible through a generous gift to the School by Mr Desmond Anderson, who served as a member of our School Council from 1984 to 1995.
"Mr Anderson has given many years of dedicated service to Melbourne Grammar School," says Mr Helm. "As part of our School Council, he held positions as Council Treasurer, Chairman of Audit and Chairman of the School's Superannuation Board. His gift to the School has supported a wonderful, inspirational addition to the fabric and ministry of the Chapel."