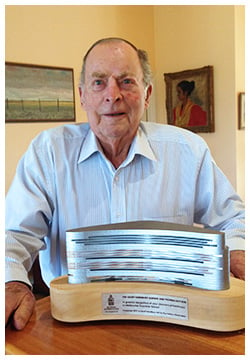 It is with great sorrow that Melbourne Grammar School acknowledges the passing of Mr Geoff Handbury AO this morning at his home in Hamilton, surrounded by family members.
"I am sure I speak on behalf of the entire Melbourne Grammar community when I say that I am deeply saddened by the loss of Geoff Handbury," says Mr Roy Kelley, Headmaster. "He was one of the most generous and genuine men I have ever met."
"I enjoyed every moment I spent with Geoff Handbury," says Mr Kelley. "A truly unique person, Geoff gained success across a variety of areas of life but remained a warm, friendly and sincere human being in its fullest context."
Commencing at Melbourne Grammar School in 1937, Mr Handbury often described himself as a modest, yet responsible student. Awarded House Colours and Rowing Colours during his final years, he was also a senior officer in the Cadet Corps.
Mr Handbury graduated from Melbourne Grammar School in 1942 with what he described as "a great sense of the value of fellowship". A successful businessman and a fierce advocate for regional development, Mr Handbury extended his fellowship through philanthropic support in fields including health, the arts and the environment.
His relationship with the Melbourne Grammar remained strong over the years, with his sons, Matthew, Paul and Paddy, also attending the School.
An extraordinarily generous benefactor, Mr Handbury has enhanced the educational experience of countless students at Melbourne Grammar through his many contributions to the School.
His substantial gift to the School's Scholarship Fund has supported numerous students from rural Victoria, enabling them to board at Melbourne Grammar.
Mr Handbury and his family were significant donors to the development of a new Student Centre which opened in 2000, which included the Handbury Family Cafeteria.
Most recently, Mr Handbury's generosity led to an exceptional gift in support of the creation of the world class Geoff Handbury Science and Technology Hub. Through the Geoff and Helen Handbury Foundation, Mr Handbury and his family gave the largest single cash gift during a lifetime ever made to the School.
Geoff Handbury embodied true humanness and community mindedness. He will be greatly missed.
We offer our sincere condolences to his family.