This year I have faced many challenges and been presented with many 'learning opportunities', and I owe much of my development in dealing with these to the work of those around me, particularly Mr Kelley.
Working alongside Mr Kelley in his final year has been an absolute pleasure. He has taught me that it is better to lead from within a cohort, or within an institution, rather than above it.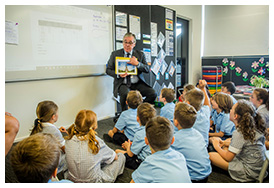 Leadership is not all 'lead from the front' nor 'lead from the back,' as I've been fortunate enough to realise this year. Leadership is very much a balance and combination of the two – a lesson that I will indeed hope to take into my life outside the Bluestone.
Among many other things, Mr Kelley has given me particular insight into the world of effective management. No matter how skilled or how organised one may be, it's impossible to do it all, on top of the academic expectations at Melbourne Grammar. The role of a Captain of School, in my own mind, has changed for the better. I now fully appreciate what it takes to lead, work and pray.
I am sure I speak for all Melbourne Grammar students when I thank Mr Kelley for his leadership during our time at the School. We have all been lucky to have him at the helm and I wish him well as he moves into retirement.
Harry Chester 2019 Captain of School