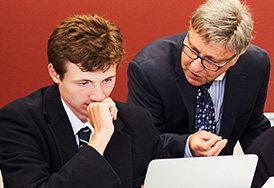 Last updated: December 2019
My work is to teach students to speak and write English skilfully and to instruct them to understand the speech and writing of others. Their education is, by means of words, to identify with others and, by reflection, to see their own significance.
In their denotation and their connotation, words can define and explore, can assert and question, are 'real' and imaginary, are contemporary and historical, are both private and public, are temporary and eternal, are commonplace and yet unique.  As teachers, I believe we must strive to give our lessons these various dimensions, according to our own lights, and to help our students to distinguish and appreciate meaning in both academic and social discourse.
Literature must be literary, i.e. not a book primarily of ideas, psychology, sociology or history. We should try to choose quite difficult texts so that the student may be challenged in the present and may learn to value fully in the future (both in his academic and in his private life). We should attempt to open to those student doors that otherwise would remain shut.
It is not enough to merely have good working relationships with each individual member of a class. A class is a small working community. The success of the community can be measured in two ways: by the work achieved and by the happiness of the class. The type of work is this context is a subsidiary matter.
Our English classes at Melbourne Grammar School are of 'mixed ability'—that is to say mixed academic ability.  We must make it clear that academic ability is not a supreme virtue. And yet, each student must find satisfaction and success in his work in the class. This makes our work as teachers more difficult. But, if we remember, that academic advance is not our only purpose, then our work in depth is made no more difficult by this mixing of abilities.
I aim to give students as full an experience of life through English as I am capable of doing—the fun, the imaginings, the shadows and the light, the endurance, the ecstasies, and the beauty and ugliness of this world.
---
Stephen Dessants did his Honours degree in English at Pennsylvania and his Masters in Literature at London. He began his teaching career at TASIS England in Surrey, then moved to Kingswood-Oxford School in New England and has been at Melbourne Grammar School since 2001.